Rock Like an Egyptian
A rare belly dance tribute to The Rolling Stones
Presented by Mick Jagger's belly dancers
Nayima Hassan & Co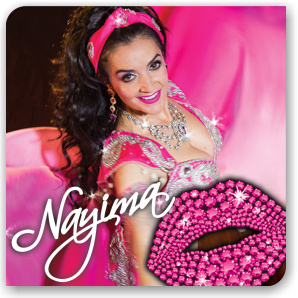 Friday 19th February 8:30pm – 9:30pm
Saturday 20th February 8:30pm – 9:30pm
240 Franklin Street, Adelaide
Tickets $25 available from FringeTix
Behold this exclusive belly dance tribute to The Rolling Stones. Nayima or "Mick's belly dancer" as charmingly coined by The Advertiser, and her dazzling starlets are delighted to share the magic and bring back the glamorous 2014 floorshow they performed for Sir Mick Jagger and guests. Expect all the glitz with even more glam rock highlights. By the way, Mick was totally satisfied!
If you're enamoured with the gorgeous art of belly dance then you're in good company with Mick and other stars, celebrities and royalty that Nayima has entertained in her career.
Between performances Nayima will share some special memories from the music to the entertainment giving a glimpse into the concert's uber-cool after-party too.
It wouldn't be lady like to tell all but there are snippets that will have you tickled pink.
Experience world class belly dance to timeless Egyptian masterpieces contrasted with famous Stones' classics. The creative fusion of the diverse genres of iconic rock and ancient dance will be sure to make you want to swagger like Jagger. Rock Like an Egyptian is a cultural evening of exotic poetry in motion with a unique twist that'll be sure to 'start you up so you'll never stop'.