Book a dazzling performance and be entertained by one of Australia's finest.
South Australia's leading lady of Belly Dance, Nayima Hassan
Nayima, Belly Dancer to celebrities and royalty to include Mick Jagger of The Rolling Stones, Prince Edward, Sir Andrew Lloyd Webber and more…

Being of Egyptian Descent
Being of Egyptian descent Nayima is a world class belly dancer of international acclaim and experience with her own dynamic, elegant and delightfully warm style. Her natural stage presence radiates personality and poise. She has delighted audiences worldwide having performed at over 8000 events in her career in Australia and abroad.
The opportunity to see Nayima live in action is an experience not to be missed!
Videos
Spellbinding Floorshows
Spellbinding floorshows and quality performances captivate all ages. Nayima's art promises to bring an exquisite highlight to your special occasion that will long be remembered.
Hens' Parties & Children's Parties
Hens' parties and children's parties are skillfully presented incorporating plenty of humour and charm with the focus on interaction and enjoyment for participants of all ages. Jingly, coined hip scarves are provided to help shake up a shimmy!
Venues
Venues may be on-site or off-site for workshops and class focused parties. Come to Nayima's majestic Franklin Street centre where you'll be surrounded by exotic décor, Pharaonic statues and Egyptian treasures. 'Open Sesame' here at Franklin Street and you'll discover an Aladdin's cave. Studio Hire enquiries welcome should you wish to extend your stay and transcend your experience into a social soiree. Alternatively Nayima can visit you at a suitable venue of your choice.
Costumes are Handmade
Costumes are handmade and fitted in Egypt by leading costumiers to ensure their first class quality and classic designs.
Show Duration
Show duration ranges from 10 to 30 minutes according to client preference, size of the function and suitability to the occasion.
Workshop Duration
Workshop duration generally ranges from 30 minutes to 2 hours and is easily tailored to suit your specific requirements. A short performance is recommended as a spectacular finale to close your session on a dazzling note.
Shows Incorporate
Shows incorporate several dance pieces. Each routine has a uniquely distinct and colourful character giving the performance a highly entertaining edge. Whilst the choreographies are practiced to perfection, Nayima's spontaneity and improvisational skills ensures you'll never see her show repeated the same twice.
Shows Present a Variety of Genres
Shows present a variety of genres and segments according to either request or Nayima's preference. They may include any of the following: Classic Egyptian |Modern | Folkloric | Sword Dance | Candelabra Dance | Alexandrian Dance | Khaleegy Saudi Dance | Veil Dance | Drum Solo Dance | Audience Participation | Finale | Encore
Performances & Appearances
Birthdays | Weddings | Engagements | Hens' Parties| Children's Parties | Christenings | Name Days | Restaurants | Cafes | Stage & Theatre | Cultural & Community | TV & Radio | Media Events| Festivals | Expos | Kindergartens | Schools | Universities | Hospitals & Aged Care | Family Celebrations | Social & Corporate Functions | Interactive Shows | Workshops | Speaking Events | Meet & Greets | Team Building | Ice Breakers | Christmas & New Year's Parties…to name a few!
In Nayima's own words
Belly Dance has been my gift so 'let me entertain you' and give back. Whether it's a children's party around the corner or a squillionaire's birthday in Greece, I'm completely at home because I take the dance with me wherever I go, Nayima Hassan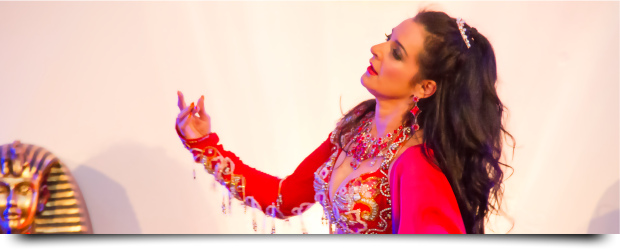 Local Show Highlights
Over 8000 cherished performances in South Australia since 1987, too many to mention although highly memorable.
Most high profile local show 2014
InterContinental Adelaide | Soloist Belly Dancer for The Rolling Stones concert after party with Mick Jagger, musicians & invited guests.
Some International Show Highlights
Piccadilly Circus, London, England | Sir Andrew Lloyd Webber's Arabian event, Prince Edward as guest of honour
London, England | Middle Eastern, Greek & Indian functions, restaurants & clubs
Jersey, British Channel Islands | International Resort, Hotel de France
Portugal | Performance tour, 3 seasons, 15 cities & regions
Singapore | Raffles 5 Star Hotel (Sept) 2002
Malaysia KK | Le Meridian 5 Star Hotel 2006
North Cyprus, Turkey | Malpas Hotel & Casino 2011
Crete, Greece | Elounda Luxury Resort 2011
Dahab, Egypt | 1001 Nights 2011
Cairo, Egypt | Gold's Gym El Nile 2012
Cairo, Egypt | Safir Hotel Dokki 2012
International Festivals & Sponsored Highlights
Cairo, Egypt | AWS Dance Festival 1999, 2000, 2001, 2002, 2004, 2012
Cairo, Egypt | AWS Festival MC, show & comp coordinator 2002, 2012
Cairo, Egypt | Sphinx Dance Festival 2010
Cairo, Egypt | Nile Group Festivals (4) 2011 to 2012
Cairo, Egypt | Randa Kamel Dance Festival 2012
Luxor, Egypt | Farha Dance Festival 2012
San Francisco, USA | Rakkasah Dance Festival
Singapore | Sponsored workshop instructor (June) 2002
Singapore | Sponsored workshop instructor (Sept) 2002
Malaysia KK | Sponsored workshop instructor 2006
International Dance Seasons & Adventures
Egypt – 14 months | London – 12 months | Portugal – 10 months | California – 3 months | Turkey – 2 months |
Malaysia – 2 weeks | Singapore – 2 weeks | Lebanon – 2 weeks | Greece – 2 weeks | Venice – 1 week