Studio Hire
Belly Dance Academy studios at 240 Franklin Street, Adelaide
Available for hire whether for one-off, short or long term use
Main Hall Studio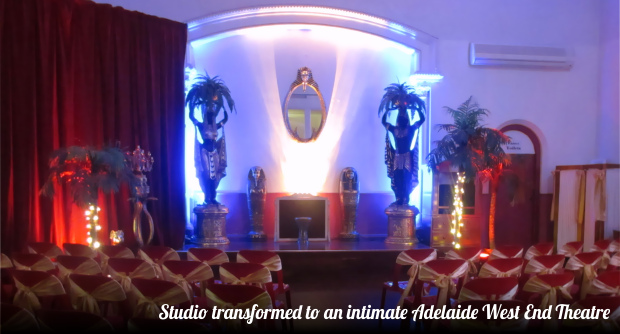 100 square metres is on the ground floor and enters into directly off of Franklin Street via the grand colourful foyer. The pink double doors open into an exotic world of Egyptian grandeur with 25 foot (7.5m) high ceilings to give the hall a luxurious feeling of space. The toilet area contains two cubicles and is situated on the northern end of studio behind the internal bluestone wall. The change room area or powder room offers a 2m x 1m wall mounted mirror for those wishing to primp and preen. The jarrah board floor has an overlay of commercial grade felt backed vinyl for extra comfort underfoot. The raised stage measures 3.7m x 1.8m and is perfect for presenting and demonstrating. The Denon sound system with high wall mounted speakers is fitted with an inbuilt cordless microphone headset. Along the western wall spans high-grade dance style mirrors 7.5m x 1.8m. The building walls are 75cm deep therefore street noise is minimal and warmth is kept in beautifully in winter assisted by large wall mounted gas heaters. The reverse cycle air conditioning is very effective in summer and backed up by the natural air flow of ceiling fans. A stainless steel filtered water cooler fitted with a bottle filler and drinking tap is situated in the foyer for central access to both studios. With a snack bar next door, the Benjamin on Franklin Hotel across the road and the Adelaide Central Market just one street south there's no chance of going without sustenance during those long studio days. Whether dance, exercise, music, theatre, auditions, rehearsals, team building, workshops, forums, hens' parties or children's parties, 240 Franklin Street is a unique venue choice and a part of Adelaide's church history originally built in 1860.
Hire the studio where Mick Jagger of The Rolling Stones rehearsed his moves in October 2014
First Floor Studio
70 square metres is upstairs being situated directly above the entrance and foyer as a lofty mezzanine open space. The ceiling is 10 feet (3m) high with an original ceiling rose. The floor has recently been renewed with honey-coloured pine boards. Four arched church style windows allow for plenty of natural light. Reverse cycle air conditioning and a large industrial fan keep air temperatures comfortable and flowing. Impressive mirrors dominating 9.6m x 1.8m of the northern wall gives this old-world studio an extra edge of light and space. A microphone is generally not required in this studio although a cordless headset can easily be provided. The sound system is set up for CD's or Ipod plug in. With a quaint ambience, this charming first floor studio is a popular choice for smaller classes, workshops and intimate forums and events.